Autumn Newsletter 2023
Posted on 13 September 2023
It's autumn again (even though the weather decided to give us a bit more summer), and here at Optisoft we've got some great news stories to share.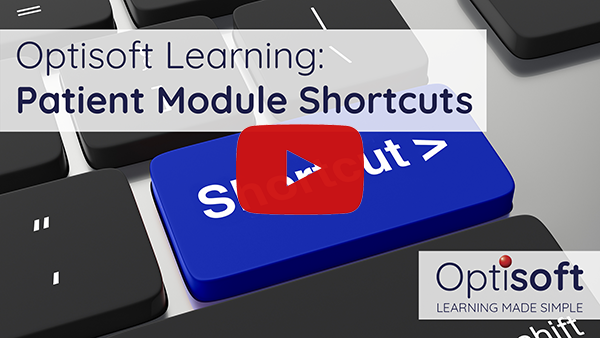 Optisoft Shortcuts
Following the success of the Top Tips video in the summer newsletter, we have created more for you to help get the most out of Optisoft.NET.
As mentioned last time, unless you've requested changes, or taken the time to read the latest release notes, you might not be fully aware of all the small enhancements we have made. So, we are creating a series of eLearning videos which will be available in the Community Hub.

The next video can be found here and if you missed it, here's the first one.  



Payment terminal integration available now
We have now officially released our payment terminal integration in collaboration with EVO Payments. Some of the benefits of integration include:
* Ensuring all card transactions are recorded accurately in Optisoft
* Save time by removing end of day checks
* No more matching card transactions to patient payments
* Faster transactions by reducing key presses
* Professional appearance


eGOS News
PCSE have announced that they will no longer be accepting paper forms from January 1st 2024 and all claims must be submitted electronically.
If you have not yet linked Enterprise to the portal or set up the full integration in Optisoft.NET now is the time to make the move.

The support desk is ready to help on 0345 230 3450.  


Planned Development Work
The projects we are currently working on are:
Online appointment bookings – enabling patients to book directly into the Optisoft.NET appointment module. Slightly delayed due to unforseen web hosting issues.
Direct Debits Module – providing the ability to collect regular payments and manage stock fulfilment for patents on a practice scheme. This new module is well underway.
If you have any other suggestions for changes and improvements, we would love to hear from you. Please post your ideas in our Forum in the Community Hub.



Community Hub
All the main eLearning videos have now been completed and can be found in the Community Hub. We will now start the process of amending the existing videos and keeping them up to date with all the latest software changes.

If you haven't already, make sure you register on the Community Hub for all the free resources only available to Optisoft users.



100% Optical 2024 registration is now open
You can now register for the 2024 edition of 100% Optical, where Optisoft will be participating in celebration of the event's 10th anniversary.

"100% Optical offers a comprehensive experience for you and your practice team, including opportunities for earning CPD points, insights from prominent industry experts, exploration of exclusive luxury eyewear brands, and access to the latest technologies, equipment, PMS systems, and business improvement strategies." We eagerly anticipate the opportunity to connect with you during the event, taking place from February 24th to 26th at ExCeL London.

Secure your complimentary ticket by clicking here.



Grassroots Football Sponsorship
Optisoft are proud to sponsor Tickhill Juniors U13 Girls football club. We think their shirts look great and wish them the best of luck for the upcoming season.
Follow their progress here.



Charity – Familia Moja
During the summer, our MD Keith Sheers visited Tanzania and The Familia Moja Foundation – a not-for-profit organisation established in 2022. Their primary aim is to help children from disadvantaged backgrounds break the cycle of poverty through education.

"Our vision is to play an active role in ensuring that all of the children of Zanzibar will one day have access to an excellent education" – Tim Spooner, CEO & Founder.

All of the children who attend the primary day care are provided with free access to medical, optical & dental care.

Optisoft have donated an initial £1000 and plan to continue to support the charity. "Thanks to everyone at Optisoft for the very generous donation which will definitely be used well and make a significant difference to the local community."

As always, if you have any queries, please don't hesitate to get in touch:
Enquiries: 0333 002 0495 | Support: 0345 230 3450 | Email: info@optisoft.co.uk